BOOM! Here Are 9 Thoroughly Epic Ways To Fill Your Weekend In Dubai
The one piece of information you don't need to be told…
The weekend is close and with that comes a jam-packed line-up of cool stuff happening across the city.
It's worth noting: The birthday of Prophet Muhammad, PBUH falls on Saturday, it's officially been declared a public holiday and as a mark of respect there will be a dry night in Dubai starting from 5.30pm on Friday until 6.30pm on Saturday.
However, there's still MUCH to look forward to, with a tonne of fitness activities, r&r opportunities, and of course, FOOD!
Colleague: Are you ready for the weekend?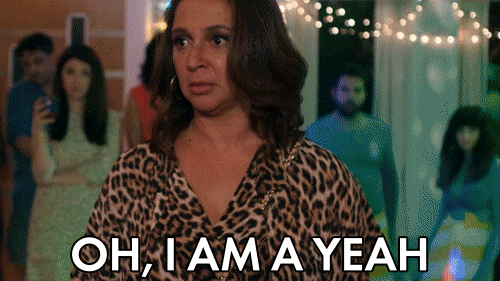 9. Your weekend breakfast with a fab view starts at District
District is a super stylish addition to Rixos Premium JBR and the bar, lounge and bistro has just a launched a new terrace that's PERFECT for long, lazy breakfasts as well as a new hotspot for Friday brunching… yaay!
And its Breakfast Club has got youuu for this weekend.
Making a hero of the most important meal of the day, at The Breakfast Club you can tuck into a delish range of dishes including a full English, lamb shakshuka, Buttermilk Pancakes, Smoked Salmon Eggs Benedict, plus some healthy options.
What's included? A choice of breakfast main, three mimosa cocktails, and a complimentary tea or coffee.
The deal: Friday and Saturday from 10am – 1pm.
How much? AED149 OR, simply choose the a la carte option.
8. Go on a dreamy Michelin-rated dinner date at Anantara The Palm
Foodies in Dubai, pay attention. For two days, Chef Naylor will take guests on a gastronomic journey like no other, that will genuinely test tastebuds.
UK-native, Chef Chris Naylor, who learned his tricks of the trade from the prestigious Albert Roux in London and Amsterdam and Chef Robert Kranenbe, is known for adding a quirky twist to beloved dishes and you can expect no less for his Dubai visit.
**Note this starts on November 7, but spaces will fill fast. Book your dining experience now.
When? Bushman's Bar and Restaurant on Thursday, November 7 followed by live cooking station at brunch the following day, Friday, November 8.
The dinner set at Bushman's Bar and Restaurant will set you back AED395 for food, while The Fork and Cork Brunch at Crescendo starts at AED365 per person, including soft drinks.
Call 045678304 or email restaurants.dubai@anantara.com
7. A weekend that's MADE for r&r – take yourself to Cinq Mondes Spa at Emerald Kempinski Palace
Nothing spells out luxury most so than the Emerald Kempinski Palace Dubai, and rest assured the opulence translates naturally into the exclusive Cinq Mondes Spa. Looking like a grand sanctuary, the 3,000 square-metre spa comes complete with lounges, relaxation areas, private spa suites, massage treatment rooms and more.
The epitome of luxury in spa form, a treatment here sounds like PURE bliss.
More information about Cinq Mondes Spa here
6. Zheng He's has reopened and it's a lesson in contemporary Chinese cooking
A visit to Zheng He's is a culture clash in the best way. Located on the banks of the Madinat,  you're immersed in a mash-up of cultures; surrounded by old Arabian architecture coupled with views of the iconic Burj Al Arab, while the menu and restaurant itself are eclectic, with an emphasis on Chinese fine-dining.
A popular restaurant on the dining scene for years, following a break Zheng He's has now reopened helmed by a new chef who's using traditional ingredients and presenting them in a fascinating new way.
The restaurant is inviting you on a journey of discovery, to sample its own take on age-old Chinese cooking techniques. Come for the views, stay for the excellent food.
More info about Zheng He's here
5. Dust off your runners for the Dubai Run on Sheikh Zayed Road
Motorists beware, part of Sheikh Zayed Road will be closed on Friday for the Dubai Run, as part of Dubai Fitness Challenge. Runners, registration was needed in advance and bibs are now available for collection.
Check out all the running routes on the caption below. Forget to register? Get out and support!
4. Keep track of Dubai Fitness Challenge events
THOUSANDS of fitness events are happening city-wide and as we draw close to November 16, the end of the 30 days (did you keep up?!), the number and variety of activities show no signs of slowing down.
Swipe right on this IG clip to see what's happening, or follow Dubai Fitness Challenge for more info.
Note: Bluewaters will be a fitness hub from November 8 – 16, and you can register here
3. A boutique fitness studio in Dubai Marina has a new ride studio
The beauty of Rhythm n Ride? It's a class where you'll hopefully forget you're actually IN a class thanks to beats from Coldplay, MJ and more old school tracks, PLUS Henrique, the newest member of the NRG squad is living up to the gym's namesake with HEAPS of energy.
NRG Fitness is a boutique fitness class and the new class features bikes designed for the pure-cyclists among us, where tracking speed, but most importantly, progress is your key goal.
When? Classes run throughout the week on Sunday's, Tuesday's, Thursday's and a special endurance one hour class on Saturday.
Monthly membership starting from AED799 per month (includes unlimited classes, Body Pump, Hiit, Spin, Circuit, Zumba, Pilates, KO8, Body Combat).
Classes are also available on ClassPass.
Where? NRG is based at Marina Walk.
2. Sips, sunset and shisha at La Mer's newest licensed spot
Giving the people what they want, The Bungalow is the ultimate beach hangout. Brand new to La Mer, you'll like it if you're into chill restos with bangin' food… but the best part of all? It serves sheesh!
A la carte is available, obvs, but there are a couple of dealio-days you won't want to miss:
Check out Surfside Spots Club powered by Candypants every Monday from 8pm to 11pm with bites, cocktails and shisa all for a set price. Ladies (AED99 – omg!) Fellas (AED199)
Thursday, from 5pm tunes by the one and only Dany Neville and free sangria for ladies, plus discounted hops
Fridays brings you drunch on the deck from 5pm to 8pm with packages starting from AED249. The weather is MADE for this!
1. A new bar has opened up on SZR and it's total futuristic vibes
Welcome to Alice where the interiors will make you question what year it is and the food is the stuff of dreams.
A bar where you can eat, drink and party late into the night, this is a fantastic addition to the Dubai nightlife scene! With decor that's worthy of your 'gram, and a menu from the renowned Dubai-based chef, Reif Othman, rest assured your night out is in VERY good hands.
When? Open 7 days a week until 2am weekdays and 3am on Thursday and Friday,
To book: reservations@alicedxb.com