8 Eating Habits That You've Probably Picked Up From Living In The UAE
Many will be a stranger to the fact that we are spoilt for choice in Dubai- that is until they leave.
Being away from the city too long brings forth the cravings for places, the lively atmosphere, incredible dependence on the country's security AND most importantly- the food.
And if you've lived in Dubai, or anywhere in the UAE for that matter, you might realise you've caught on to a couple of exciting food combos unlike anything before.
Adversely,  those who haven't tried it will find themselves in complete foodie haven.
Here are a couple of the right Dubai mix of food combos, snacks and eating habits we've all partaken in- at some point.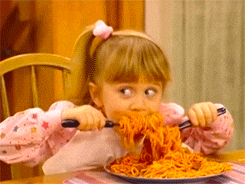 1. Even when not fasting, you've grown quite a liking to Vimto during the Holy Month of Ramadan
It just goes with absolutely anything.
2. Shatta (Hot Sauce) with rice and meat dishes
…or on cheesy chips.
Because why not?
Plus points for CRYSTAL.
3. Club sandwich from the OG cafeterias = always a good idea!
Best PAIRED with banana juice.
4. Chips Oman, same goes, pretty much with and in anything
You name it, there's probably a Chips Oman version of it somewhere.
From sushi, to sandwiches and full gourmet dishes mixed with this delightful potato chip snack.
Can't GET enough!
5. Nutella as the ultimate sweet-tooth cure!
6. Shawarma and a soda= the go-to solution to a famished but rushed individual
Always the hero.
7. Having machboos, biryani or mandi without using your hands doesn't feel as exciting
There's no better feeling than sharing some comfort food with peers.
8. Karak is the post-heavy meal drink of choice
Especially during winter. Or along with your local Emirati breakfast.
Got some of yours?
We probably weren't able to cover the extensive influence Dubai has on foodies.
Got your own fave local or 'very Dubai' dish combo or eating habit?
Let us know in the comments section!